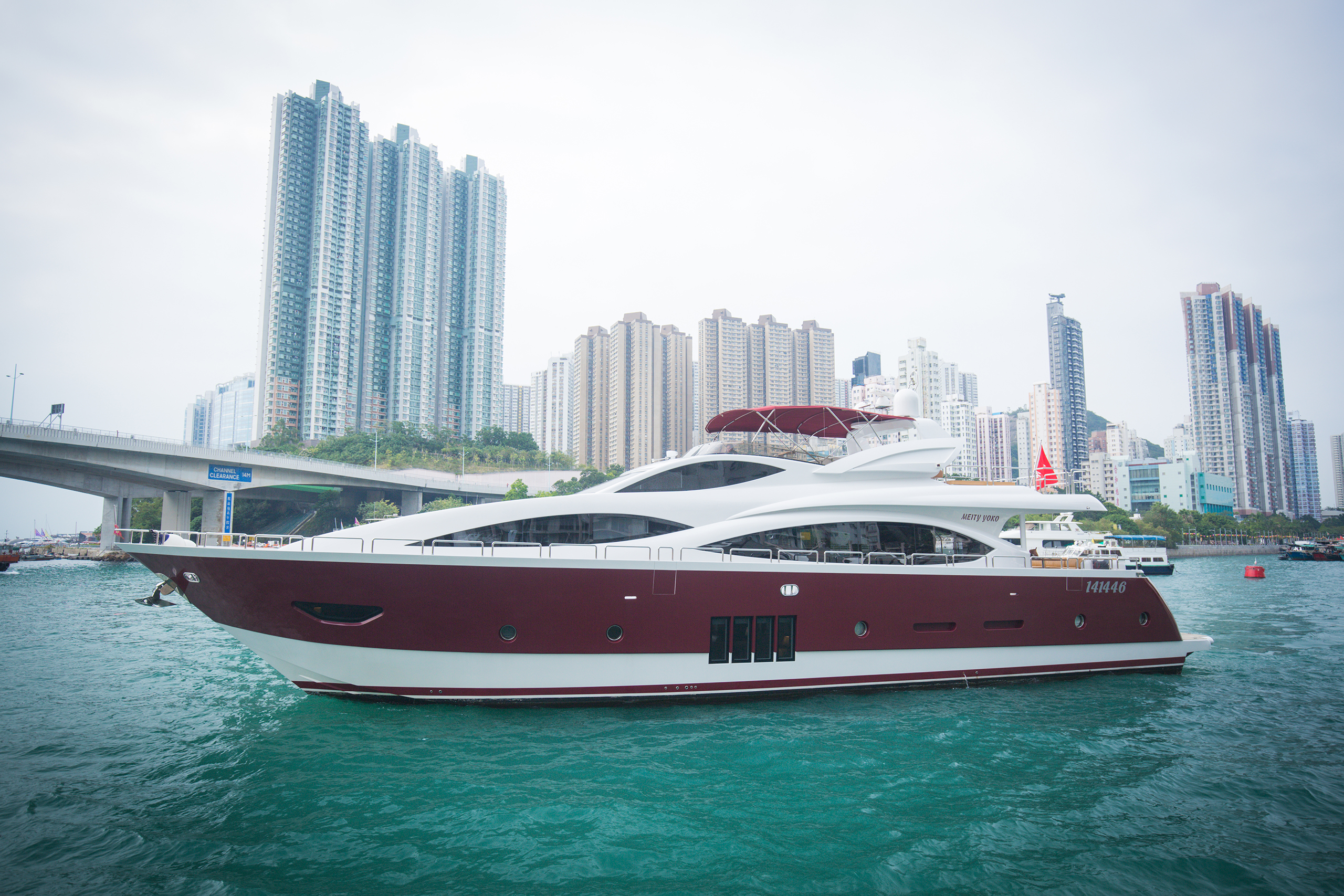 Our Cruiser
Our 92ft carbon-fiber yacht, Meity Yoko, is designed to deliver the perfect cruising experience. Tailor designed in Italy with high-quality fixtures, comforts and luxuries; Meity Yoko is the finest cruiser in our fleet. Averaging at 14 knots, this custom-built yacht is performance-oriented with two powerful engines from USA, a robust hull and a GPS radar navigational system. The vessel can comfortably accommodate 35 guests and 5 crew members.
Lounge & Dining
Karaoke Room
Service Facilities
Open Deck
Master Bedroom
Kitchen
Outdoor Dining Area
Twin Bedroom
Sunroom
Lounge & Dining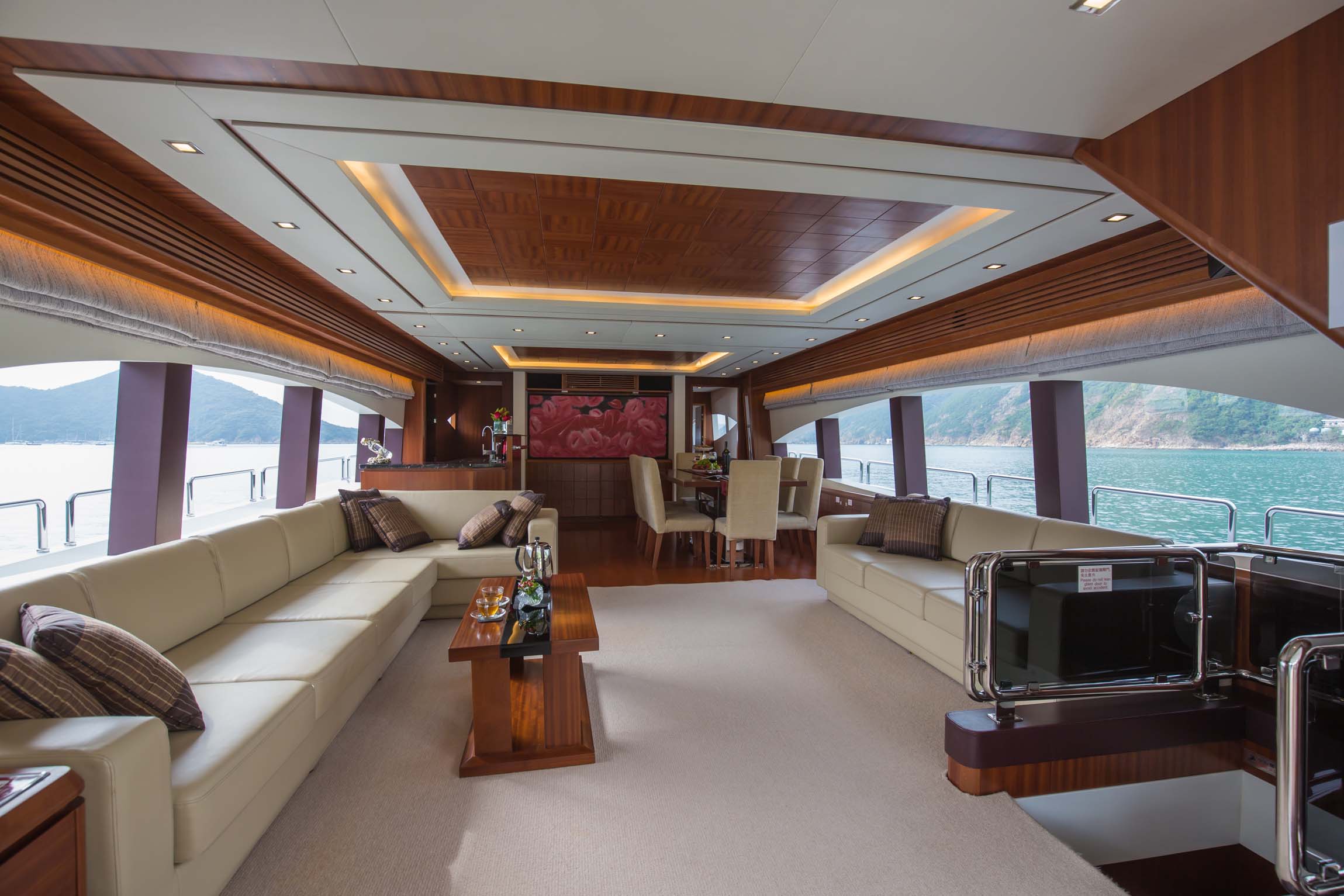 Our spacious lounge and dining area is furnished with soft sofa chairs for nine, an open bar, and a movable hardwood dining table for eight. It is also lavishly decorated with a 1.5 by 1.2 meter custom-made painting by the award-winning Chinese artist Luo Xu.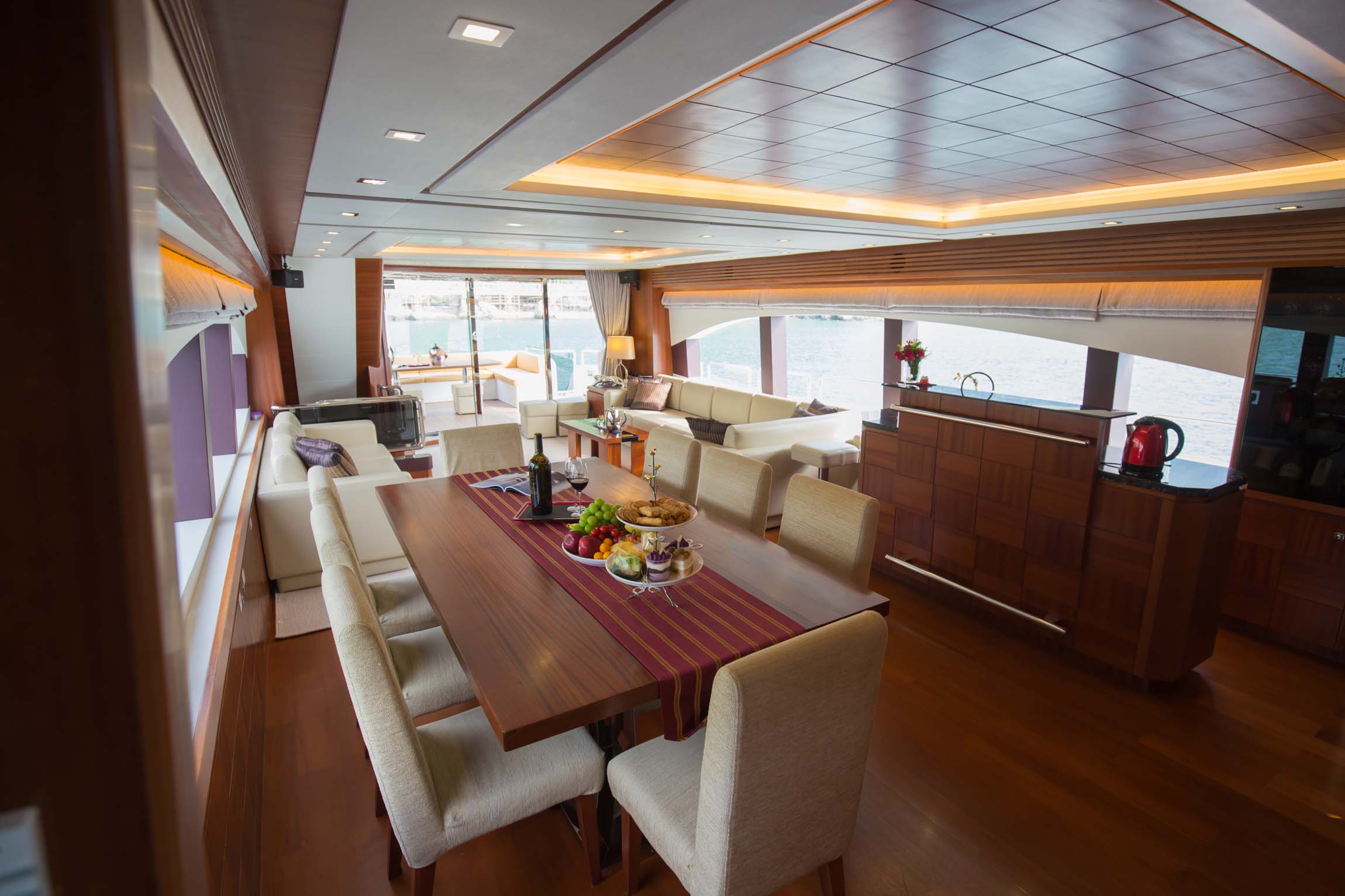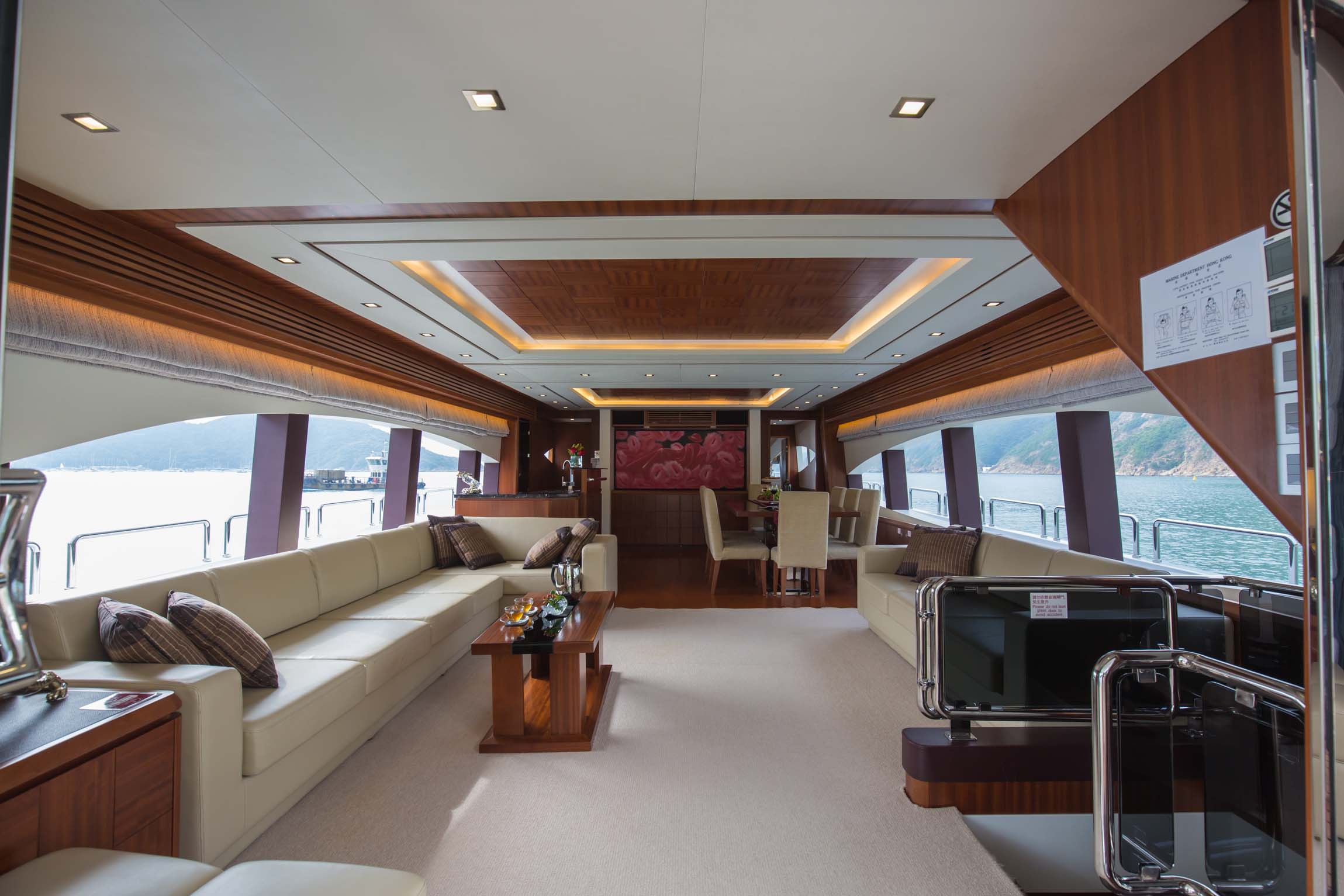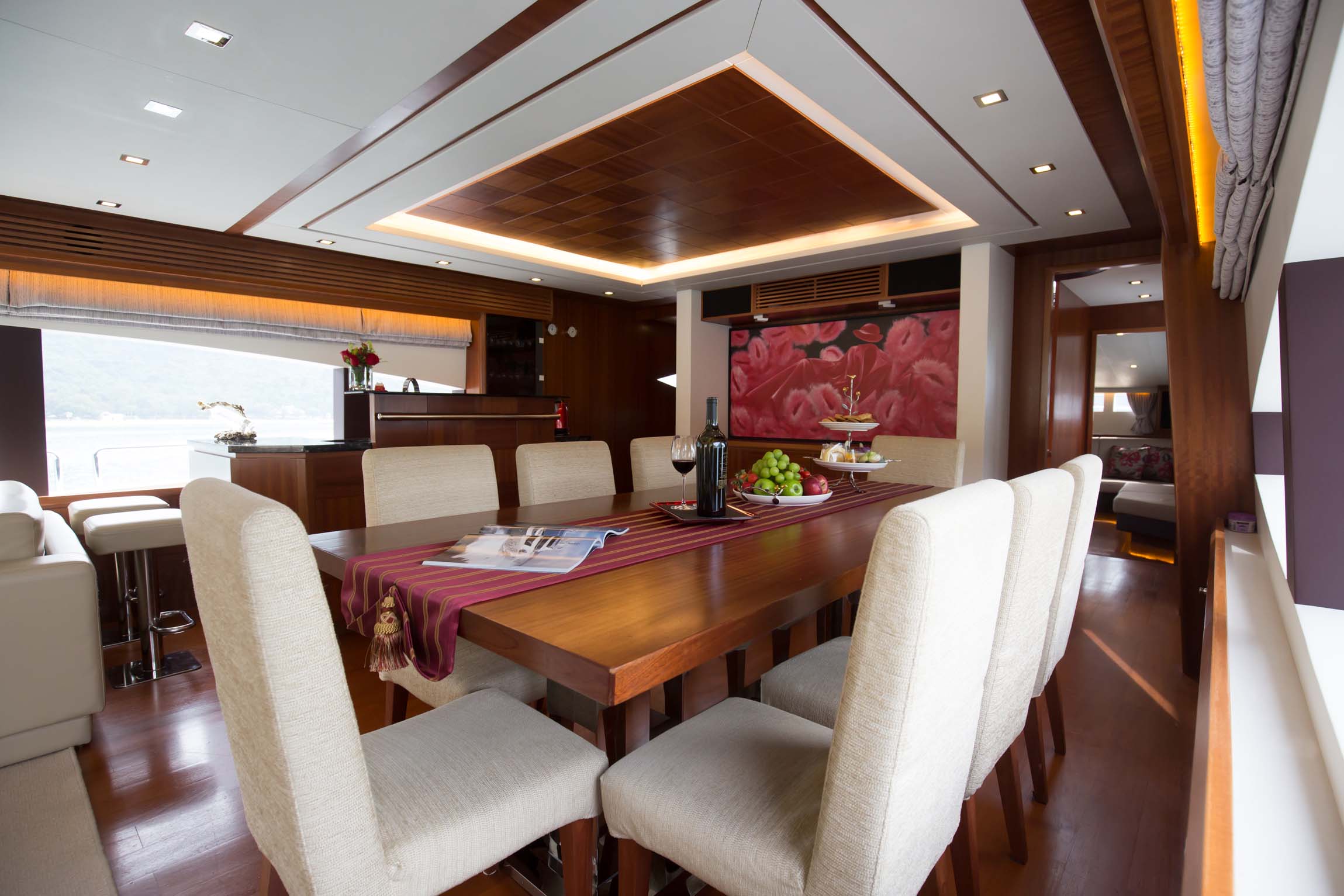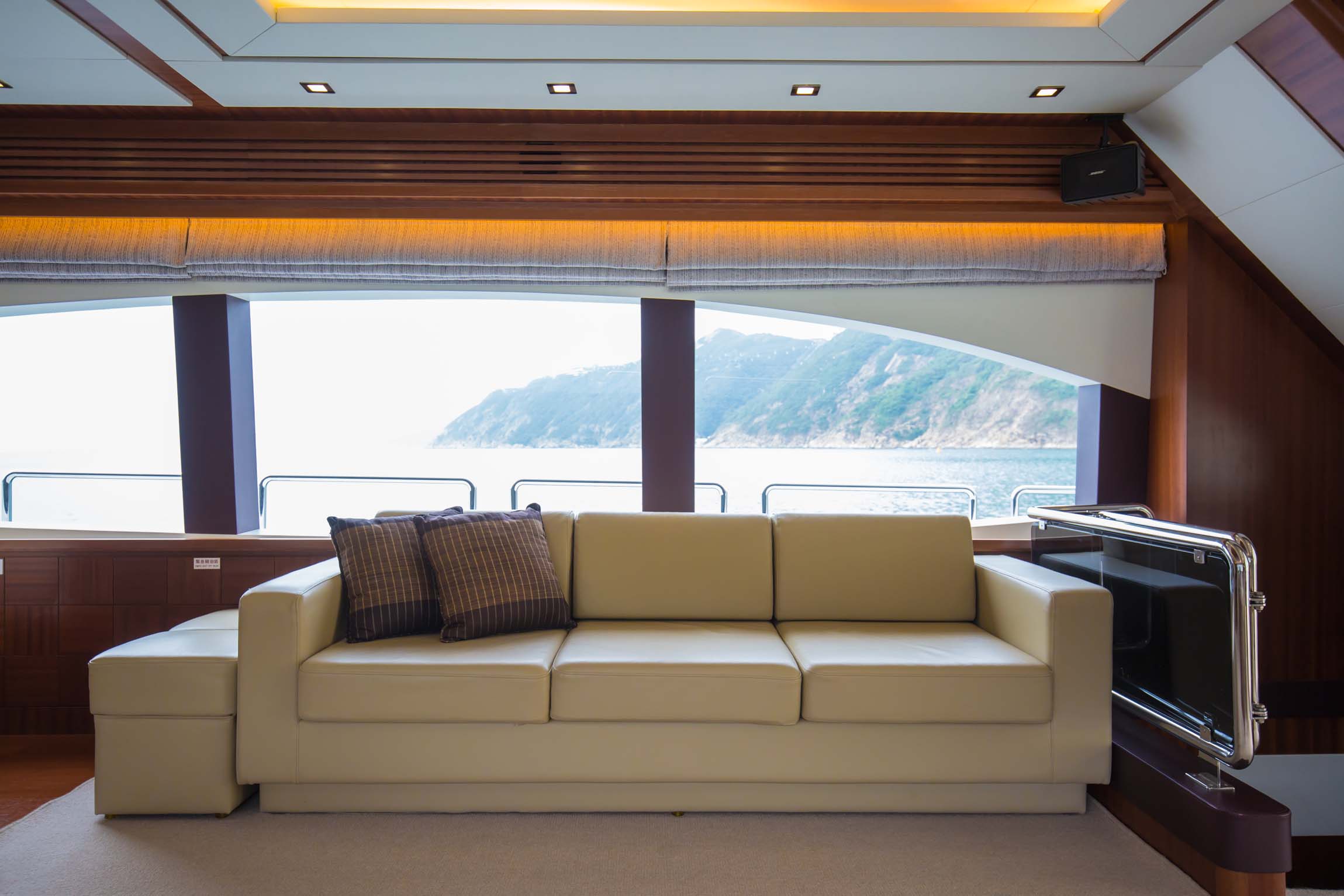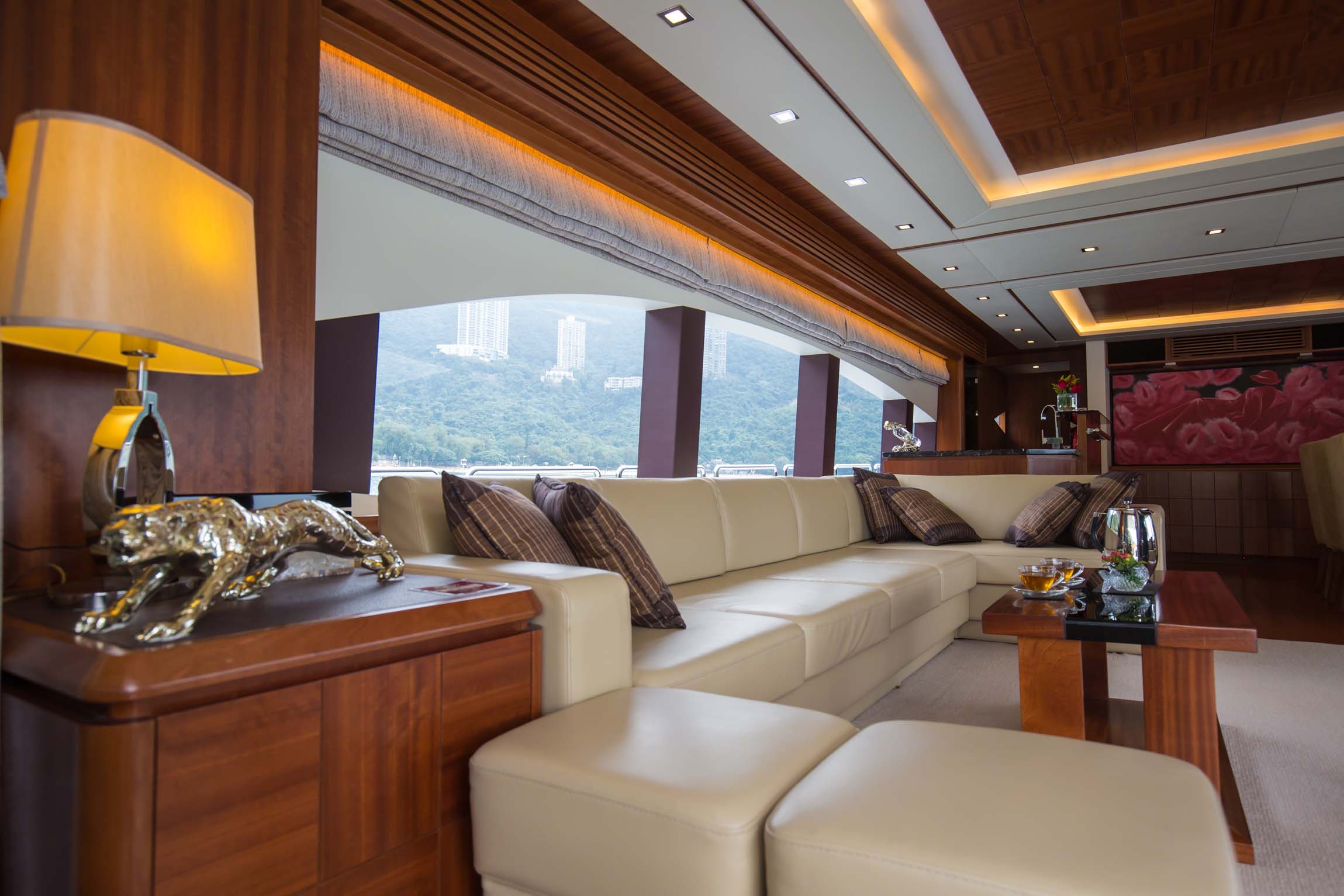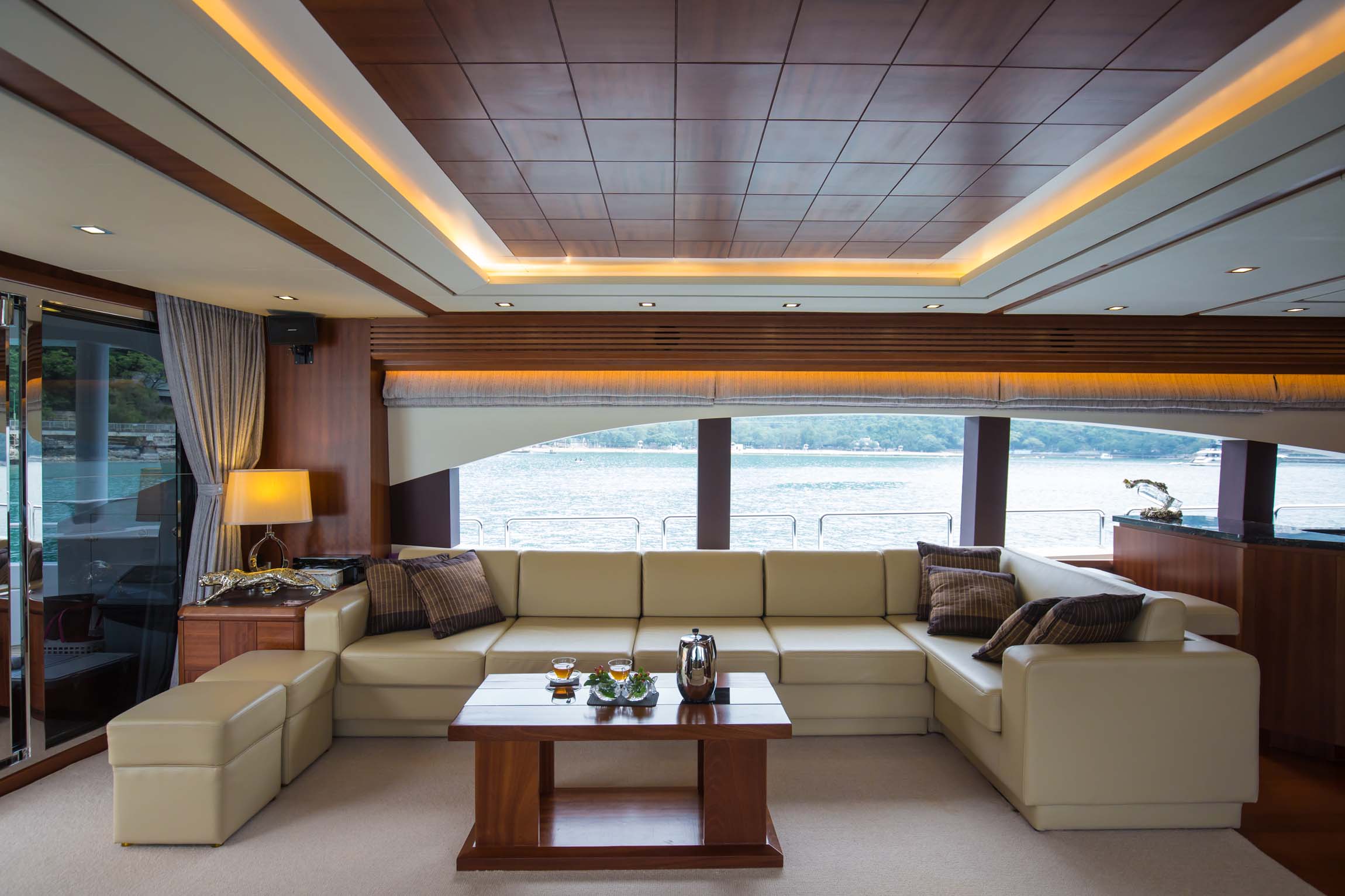 The 480sqft room is well lit with electric ceiling lights and natural light from the surrounding windows, giving the space an especially relaxing atmosphere.
Open Deck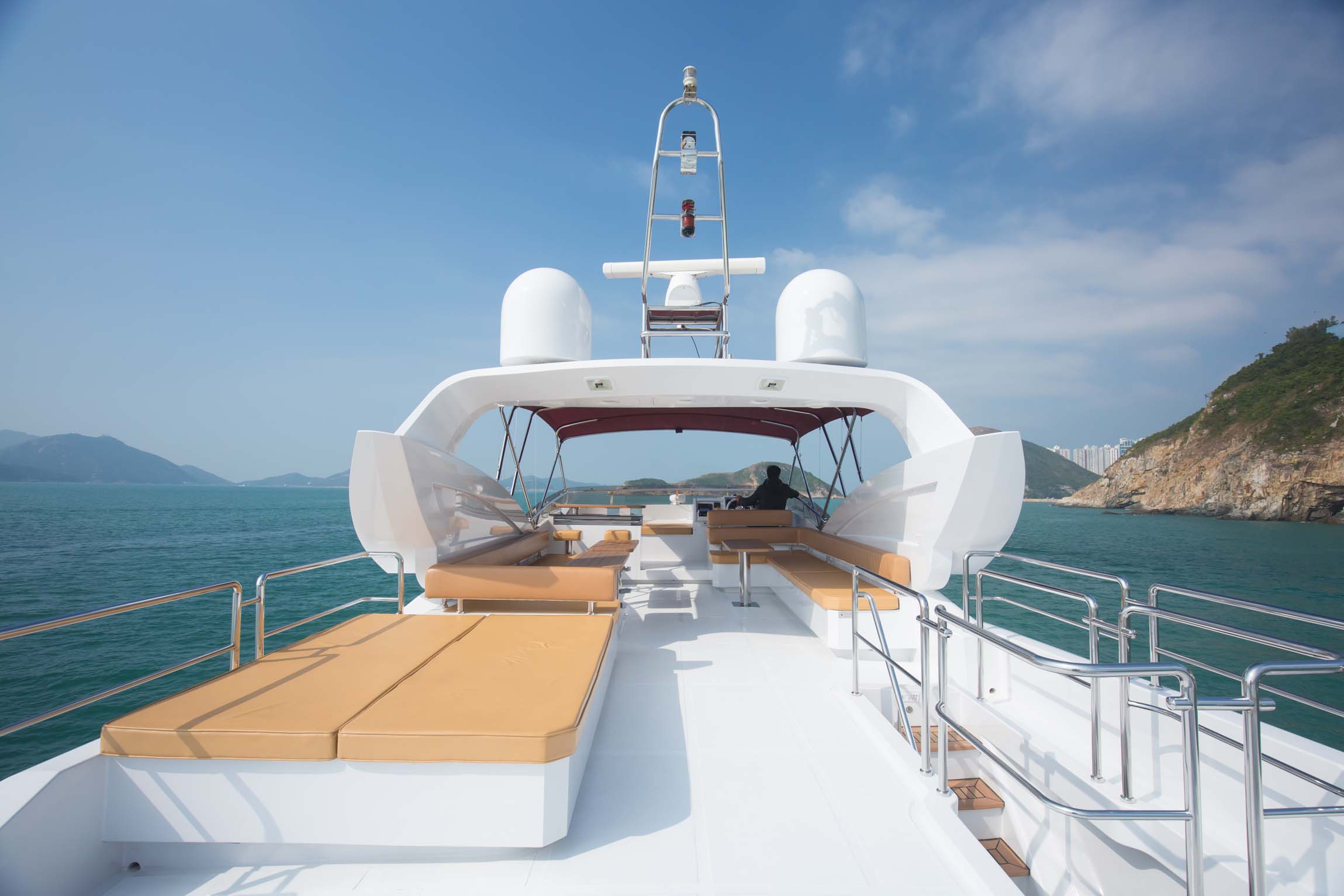 Other than the amazing views, the open deck features a shaded seating area with soft cushioning, an open mini bar and two sun bed tanning areas; which makes this an ideal space for outdoor entertainment.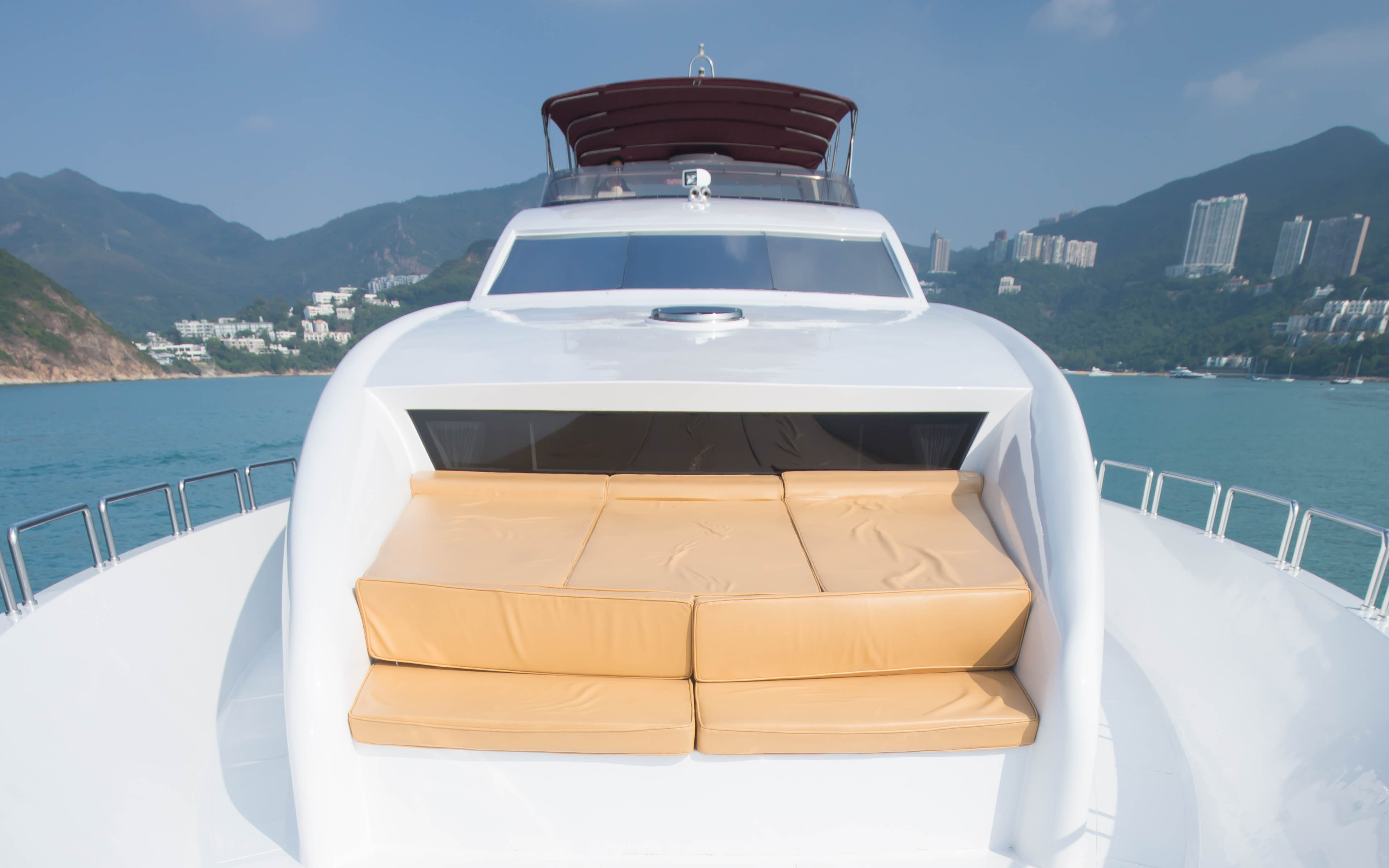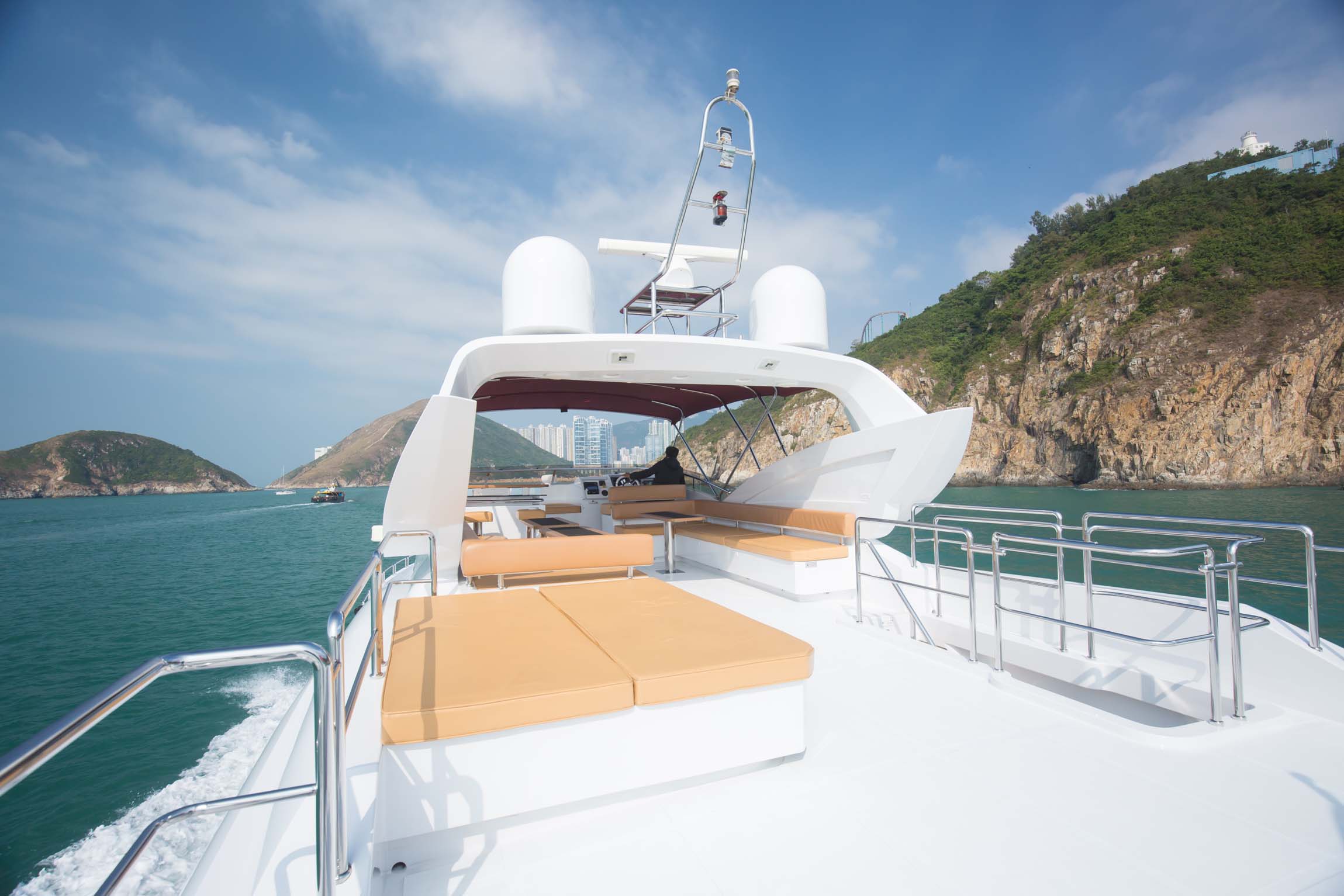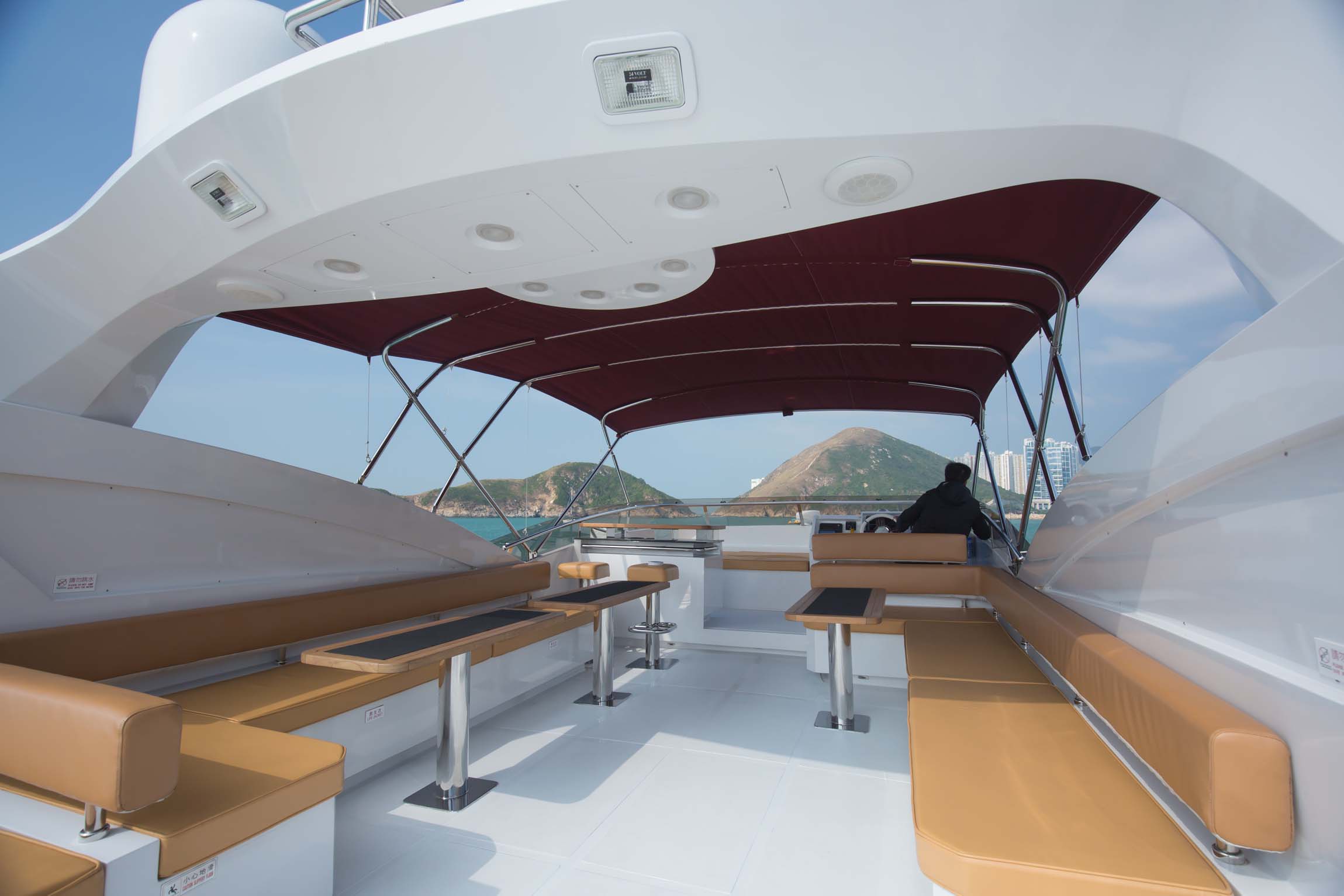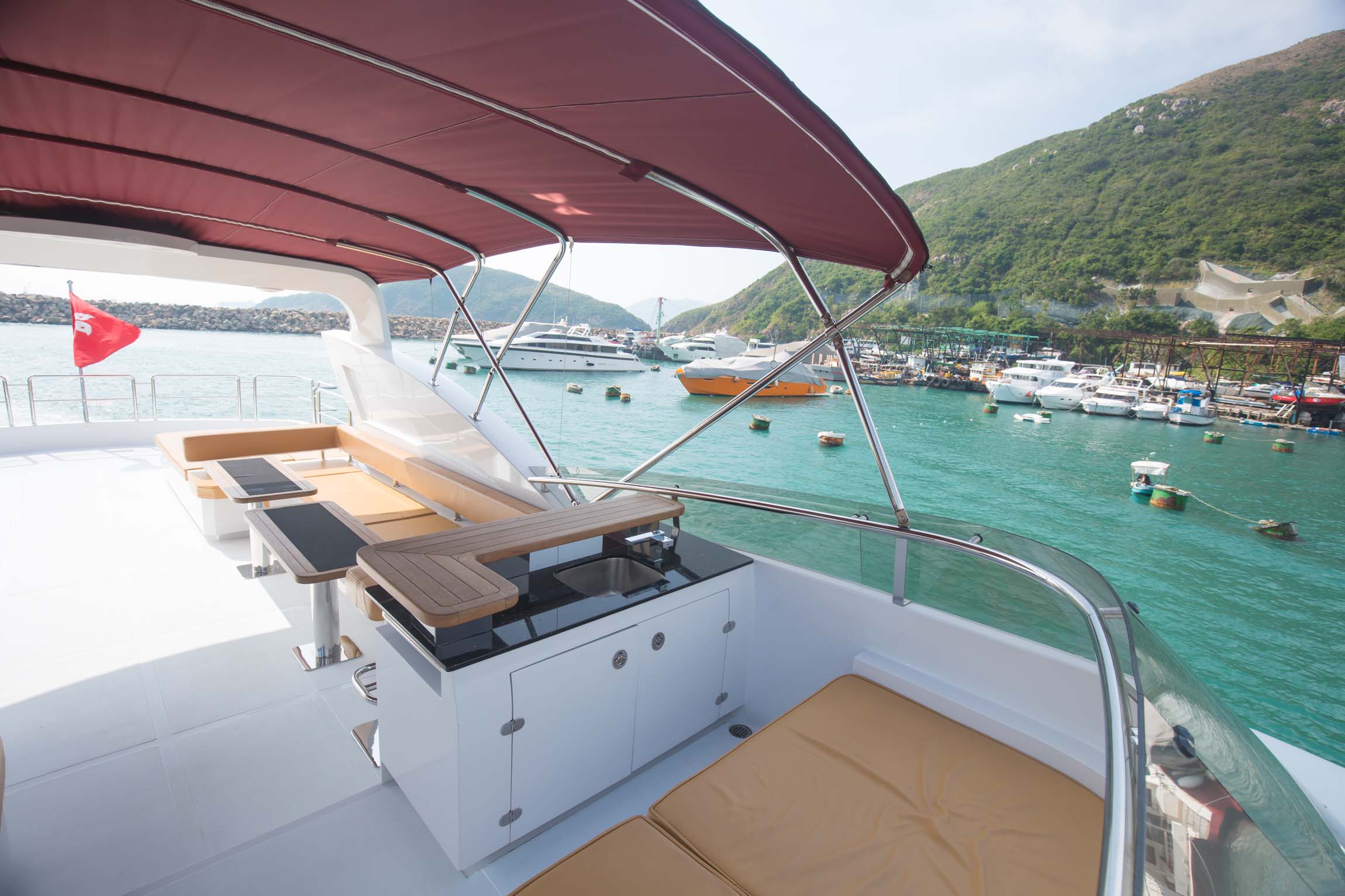 Outdoor Dining Area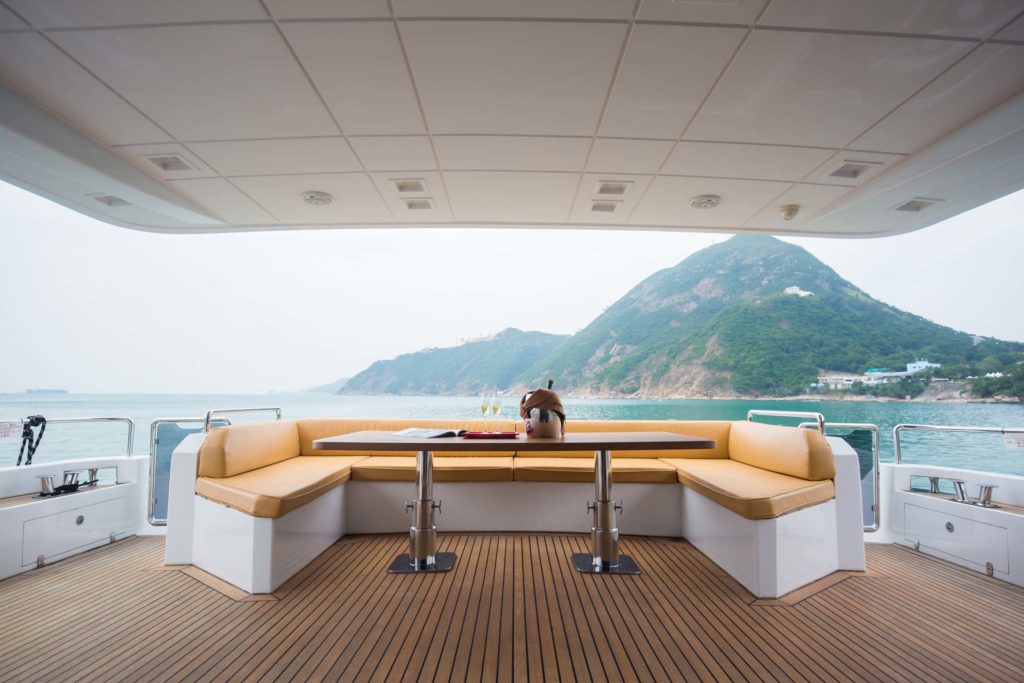 The generous outdoor dining area at the back of the boat comfortably seats 8-10 people and has an equally large table fixed to the deck. It makes for an ideal reception for any events.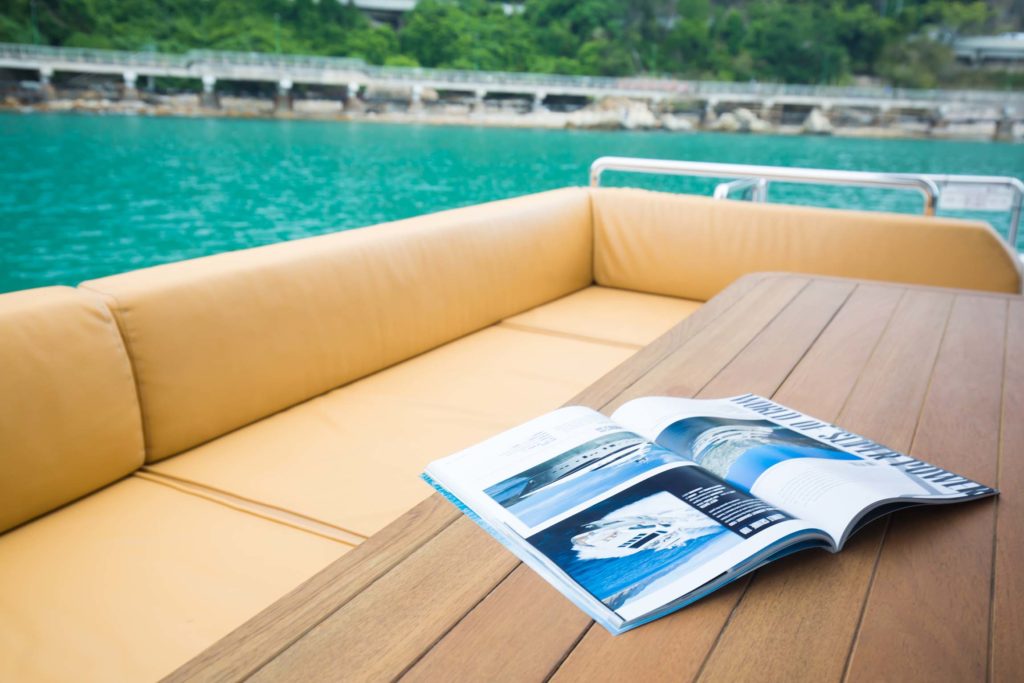 Karaoke Room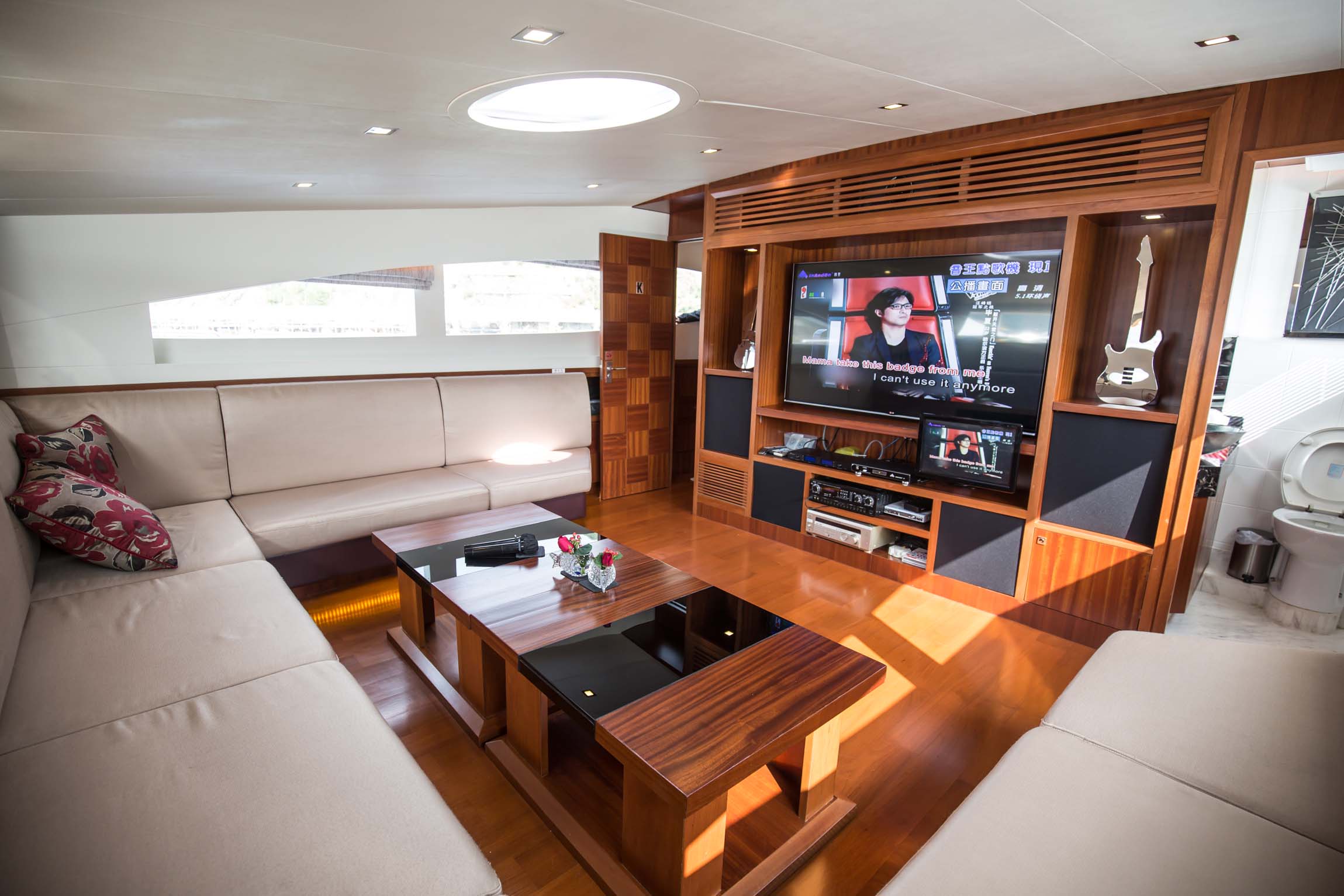 Our 225sqft karaoke room is fitted with a 65″ Sony flat screen TV, stereo sound system and high quality Bose speakers. Two wireless mics are also available for use with any booking, and the CPU song selection system for karaoke has over 20,000 songs to choose from by over 500 artists.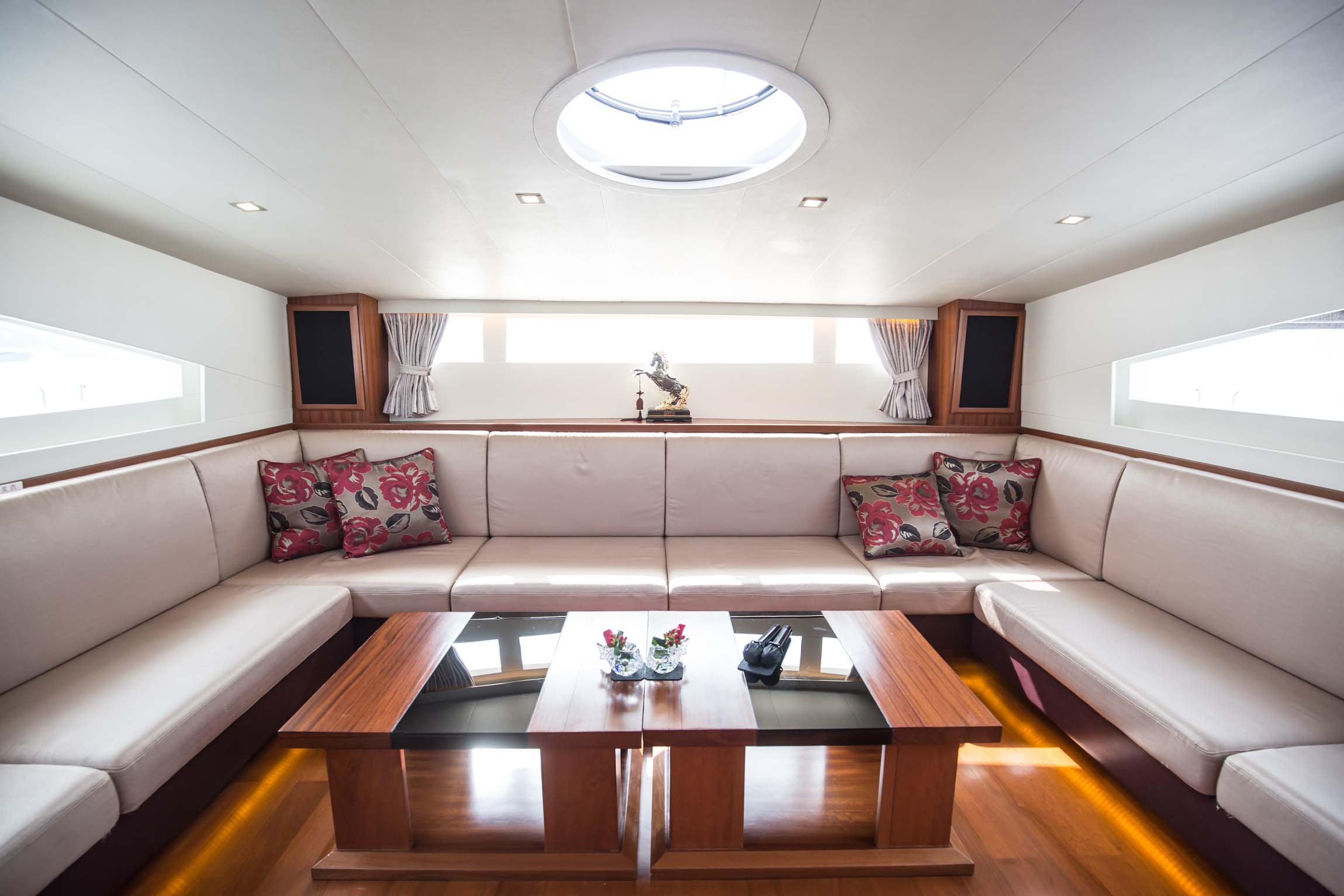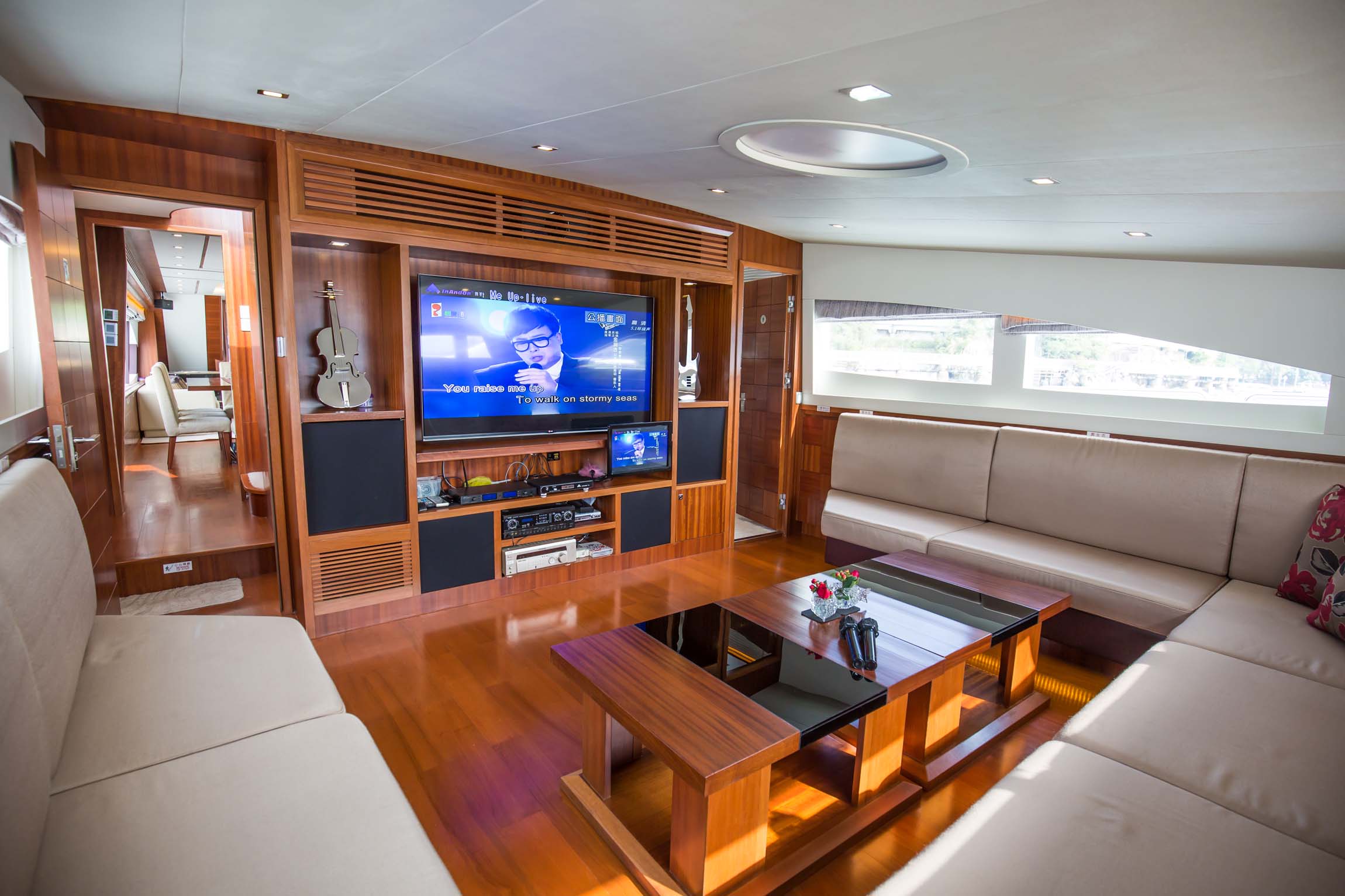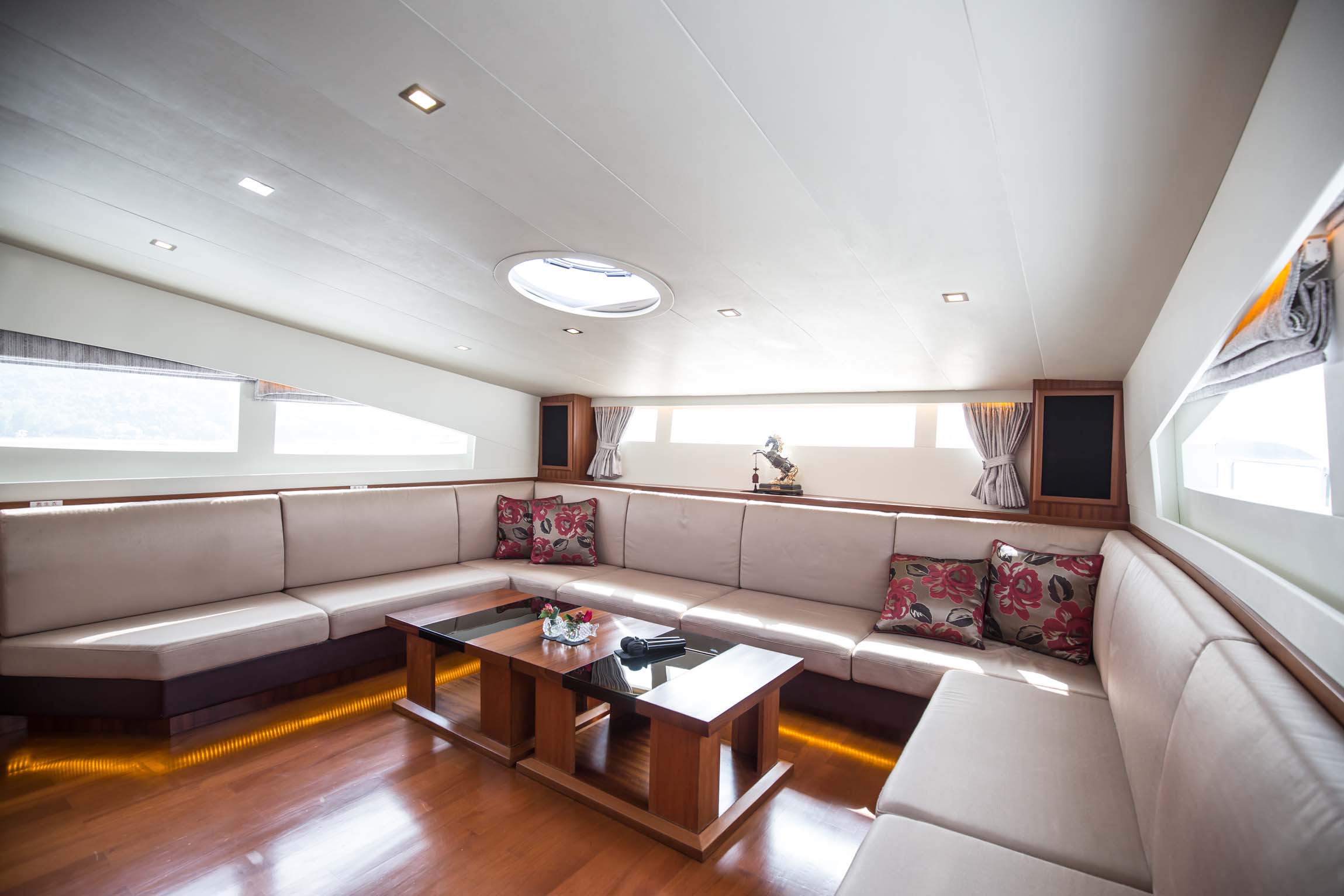 Furnished with a comfortable U-shaped couch, this room is ideal for any types of gathering between two to twelve people. An en suite toilet is provided for extra convenience.
Master Bedroom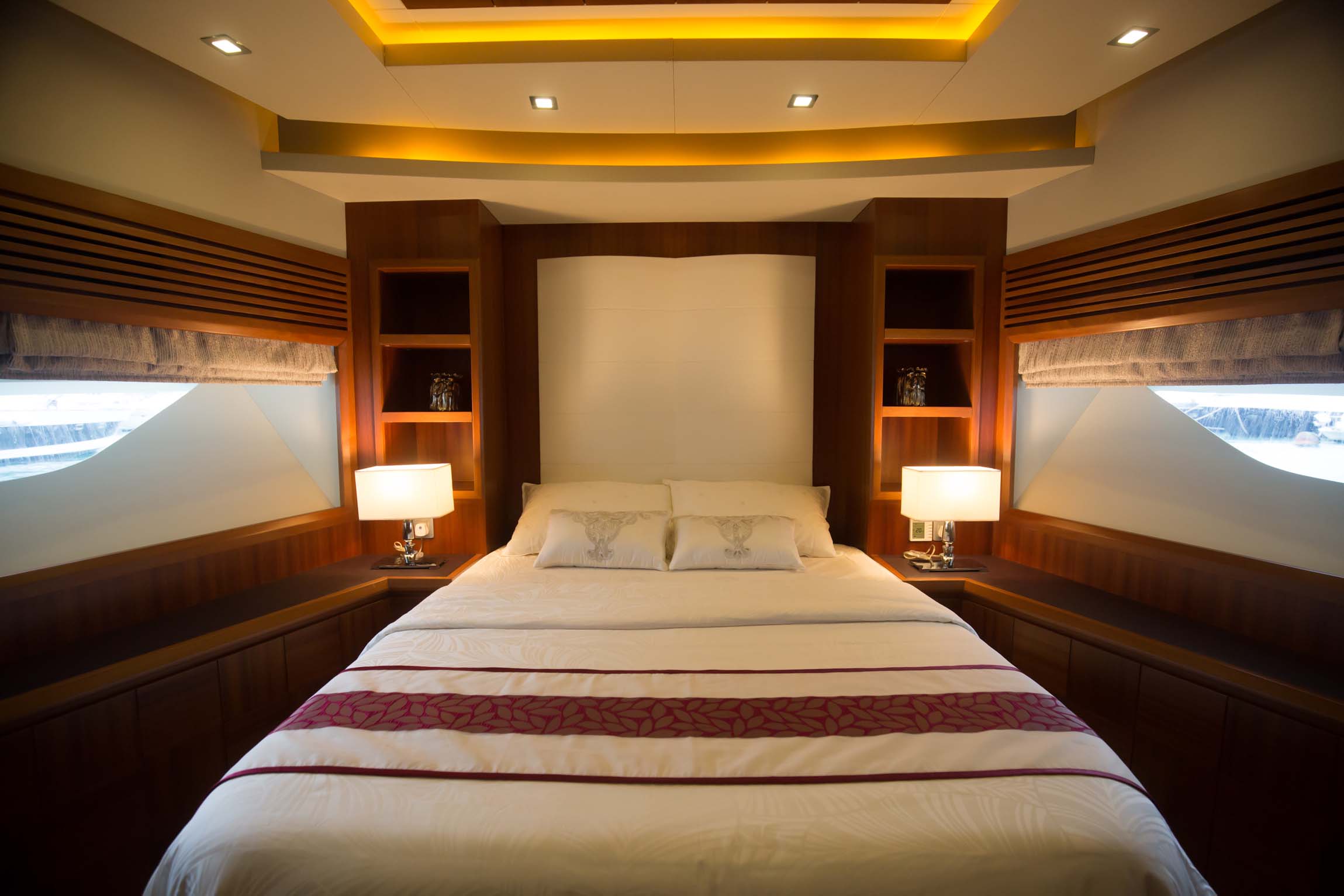 The queen size bedroom features a five by six feet bed with silk bedding from Elle and an en suite toilet with shower. It is also furnished with two sofa chairs, a 40″ TV, wardrobe and a set of bedside table. All beddings on our yacht is dry-cleaned by professionals after each sailing.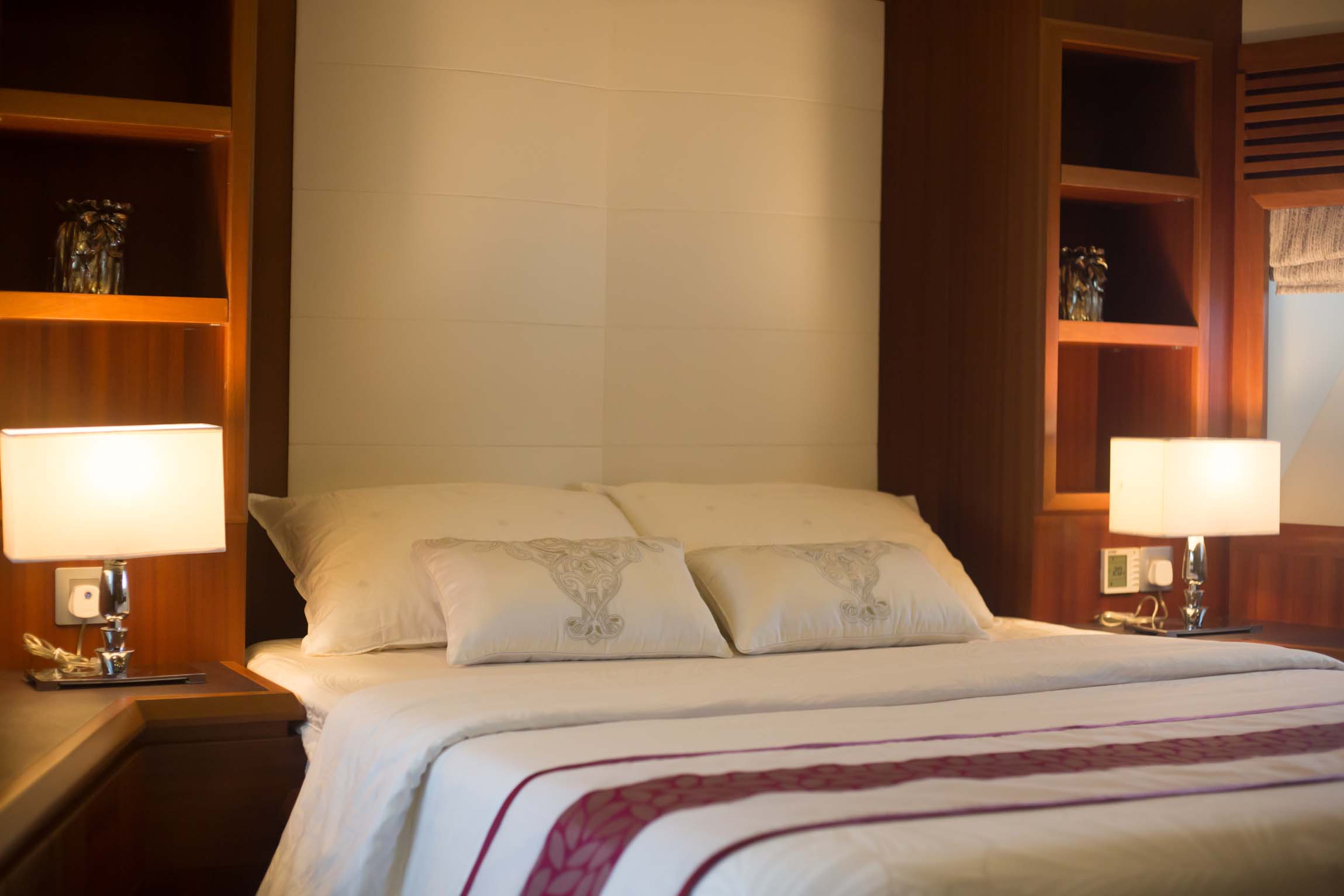 Twin Bedroom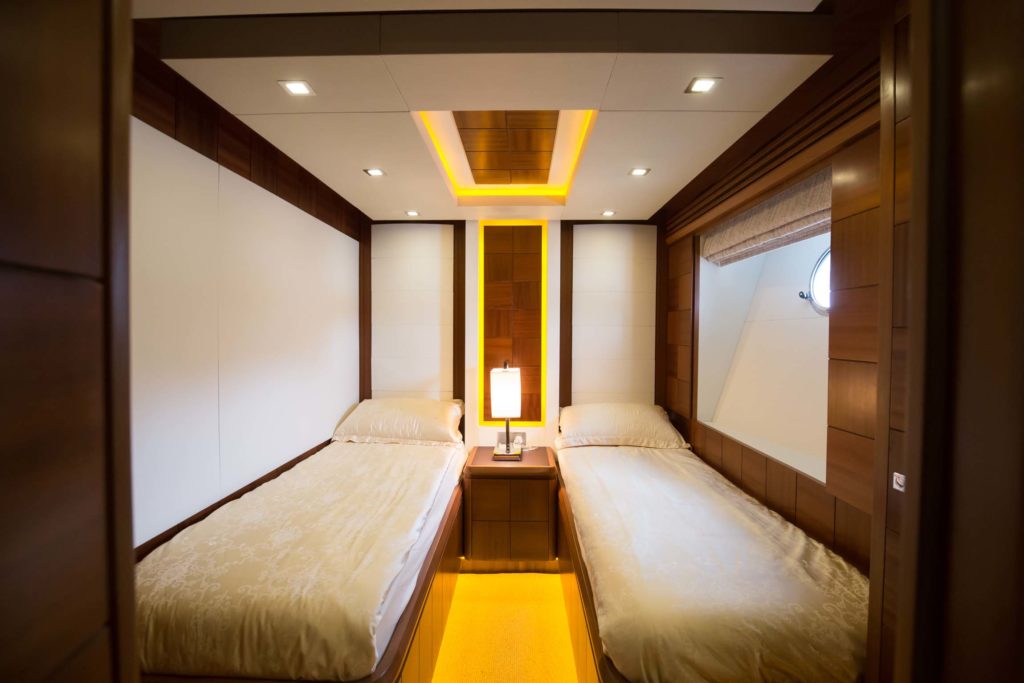 Other than the king and queen size master bedrooms, we also have two twin bedrooms with en suite toilets and shower. These two rooms are lightly furnished with a wardrobe and a bedside table.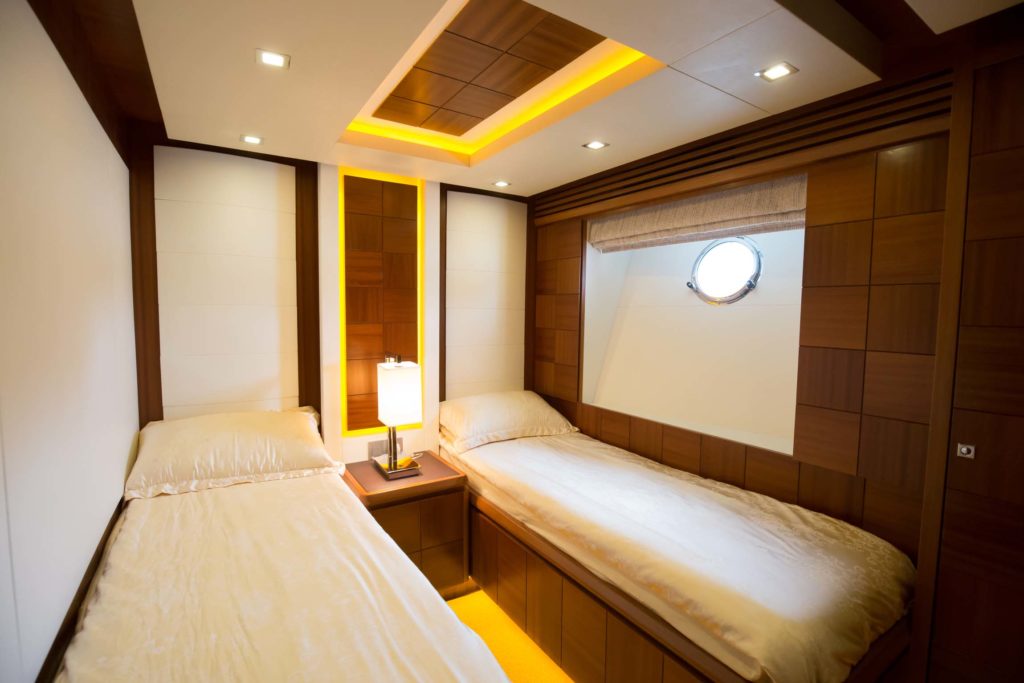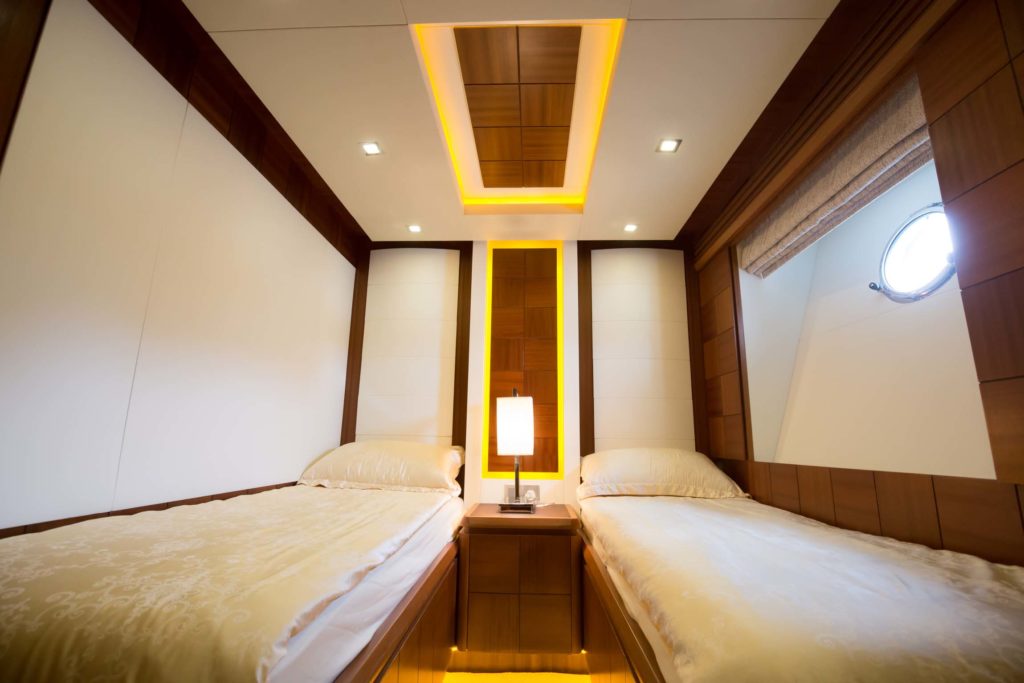 Sunroom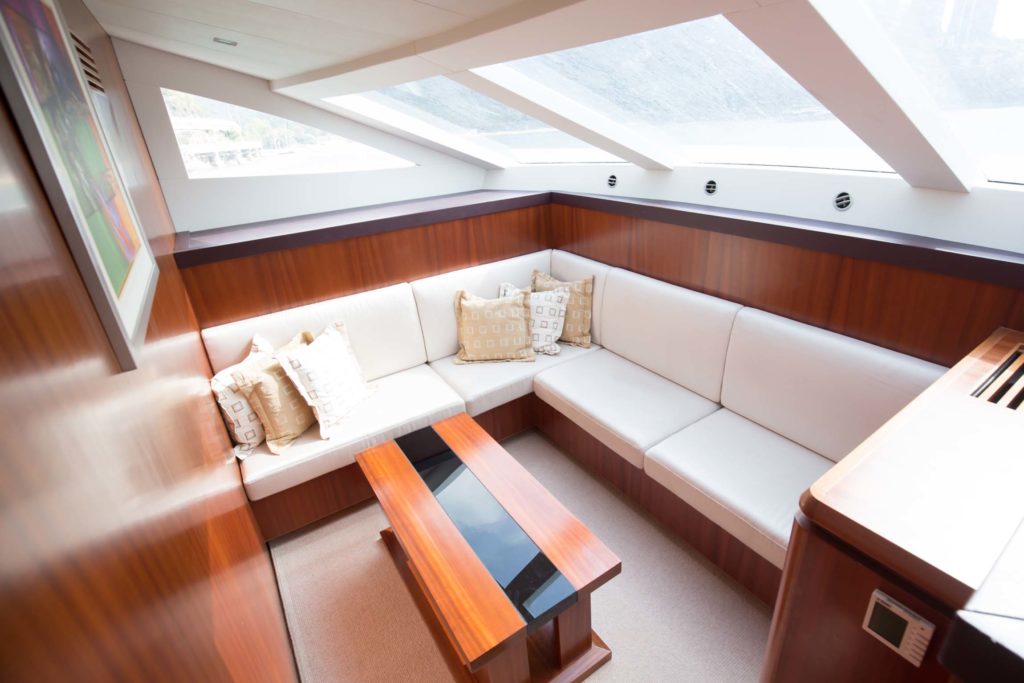 Tucked away between the main lounge and karaoke room is a small sun room furnished with sofa chairs and a small tea table. Lightly decorated; this space receives plenty of natural light during the day and is the ideal space for some tranquillity. However, some may prefer to use this space as an extra cloak room.
Kitchen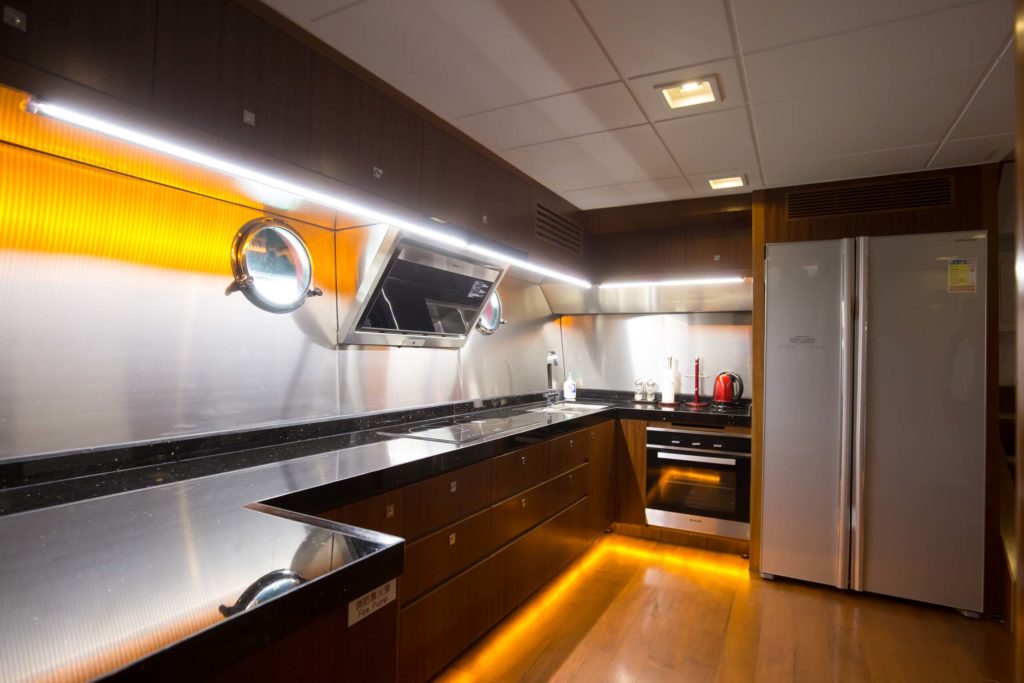 Miety Yoko's large kitchen is fully equipped with a 4 ring electric stove, standard size oven, double door fridge, microwave, ice maker and all necessary cooking utensils and cutlery for serving 50 guests. It is also conveniently located with direct access to the lounge and dining area, and the swimming deck at the back.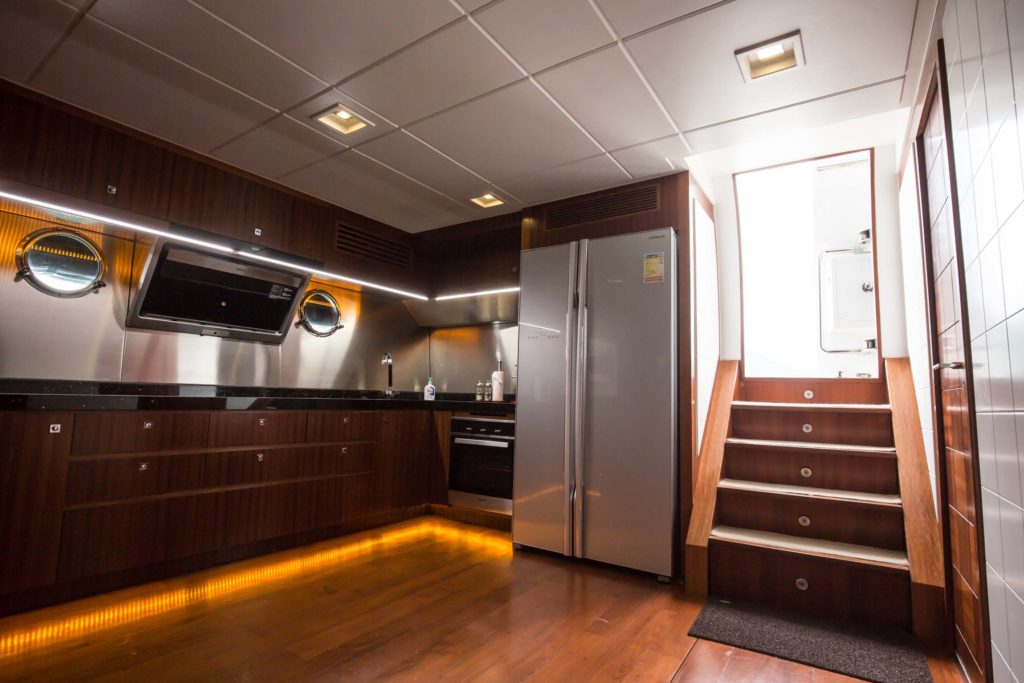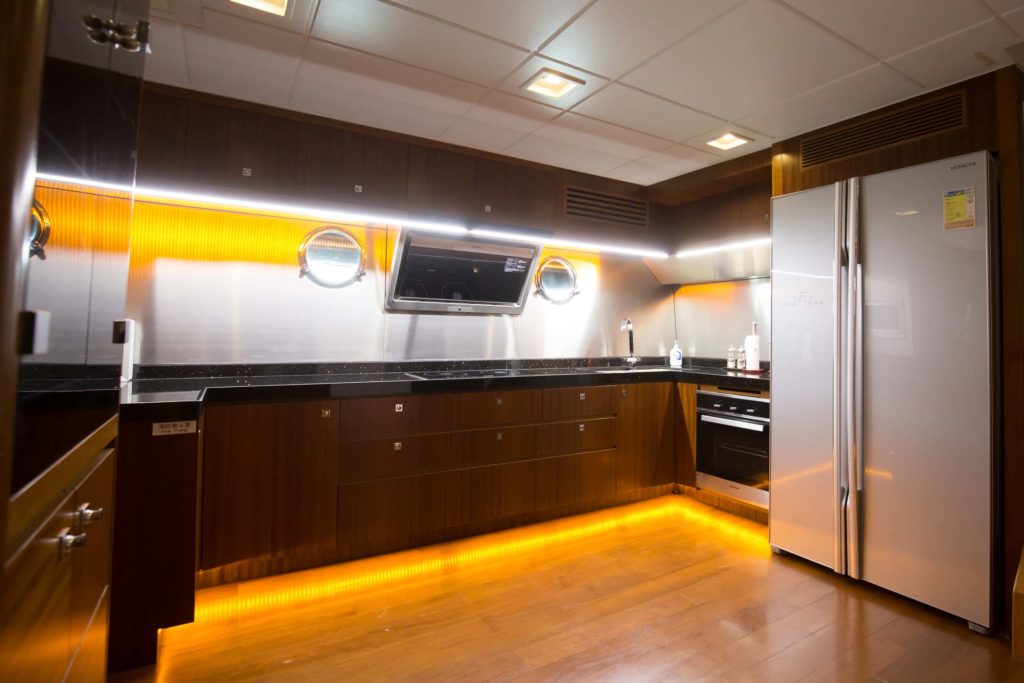 For those special occasions, we also have crystal champagne and red wine decanter sets with shatter free glass cups for our guests to use.
Service Facilities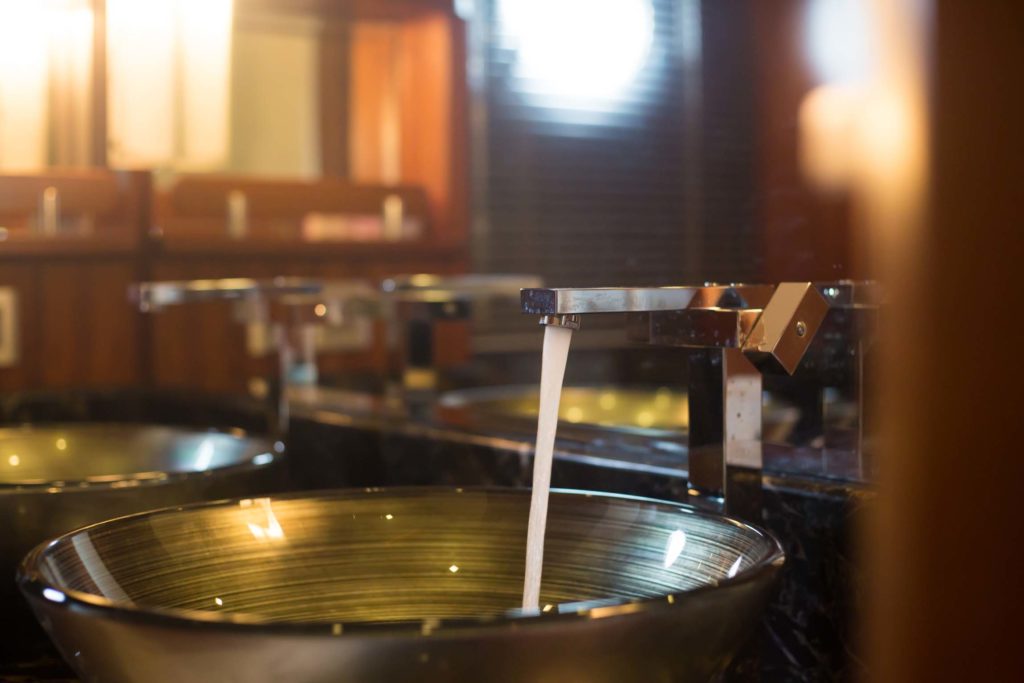 Our yacht is fully serviced with quality fixtures to provide our guests with extra comfort and safety. All indoor spaces are fully ventilated with independently controlled water cooler air-conditioning and every stairway is fitted with hand rails for safety purposes. The swimming deck also features two outdoor showers for added convenience.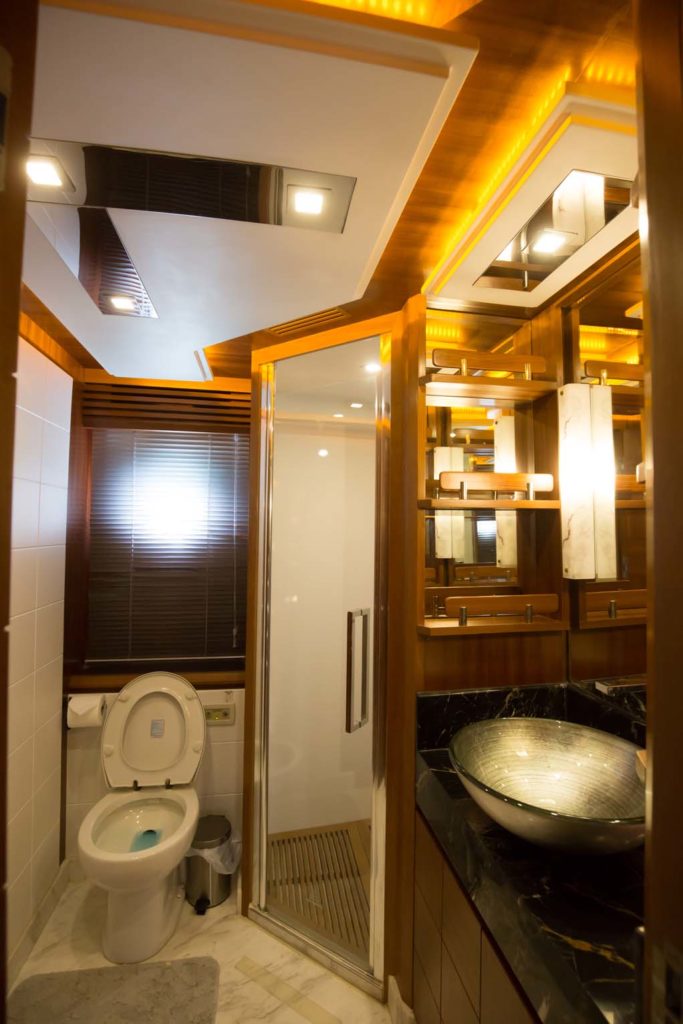 All of our facilities are thoroughly sterilized after every cruise tour for the comfort of our next guests.
More About Us
Our Cruise
Private Deck
The Team
Interested?
Find Us On Social Media!
Or Share Us!
Ms. Ho   9411 8599 / 2791 2186 
Prosperous Cruises Ship Company Ltd.
M/F, No. 42 See Cheung Street, Sai Kung
Designed By Carol C.